Weddings are special at Freedom Center!  From a small, intimate gathering to a large, lavish celebration—we can do it all!  Our auditorium offer a blank palette setting that can be as simple or as complex as your wishes.  If budget is a concern, the basic layout we provide offers simple elegance requiring little additional ornamentation or expense.  However, if budget allows, there is ample space for any visual setting you wish to create for your memorable day.
Our large Lobby area can double as a Reception Area, if needed, which is totally climate controlled and conveniently adjacent to restrooms.  Food and beverage are allowed and we can provide on request a list of Caterers we've used and who are familiar with our facility.
Our Green Room doubles as The Bride's Room for weddings.  A comfortable, intimate living-room setting complete with private restroom assures the bride-to-be will be ready and comfortable on her big day.
With plenty of on-site parking, a state-of-the-art facility and a trusted Wedding Coordinator available to help at every turn, we can make your day one you will never forget.
Freedom Center is available to host virtually any kind of event.  From family reunions to service club meetings or company training events—we can do it all!  Our Conference Team will work with you to plan and execute a flawless event in a comfortable, safe and convenient facility.
A variety of meeting spaces are available for virtually any size group—from very small to as large as 600.  And, our technical capabilities are state-of-the-art and only limited by your imagination.
Food and beverage are allowed in all of our facilities.  And, upon request, we can provide you with a list of caterers and/or food trucks that are familiar with our facility.  And, there's always plenty of adjacent, dedicated parking in our large, well-lit parking lot.
The Freedom Center is a great place to host a conference or seminar!  With very flexible seating, our auditorium can be configured in virtually any style you prefer—theatre seating, classroom, full banquet rounds, crescent rounds—the options are only limited by your imagination.  
For groups requiring refreshments or meals it's no problem, either in the main auditorium itself, or in our large Lobby Area.  Upon request, we can offer you a list of caterer's that are familiar with our facility who provide a wide variety of price point options.
And, if breakout sessions are needed we have a variety of other rooms in various sizes that can be utilized and set in any configuration.  Some even feature built-in audio and video capabilities if your program require it.
You can rest assure that our Events Coordinator and Team will work to assure your complete satisfaction and a successful event from start to finish.
FREEDOM Events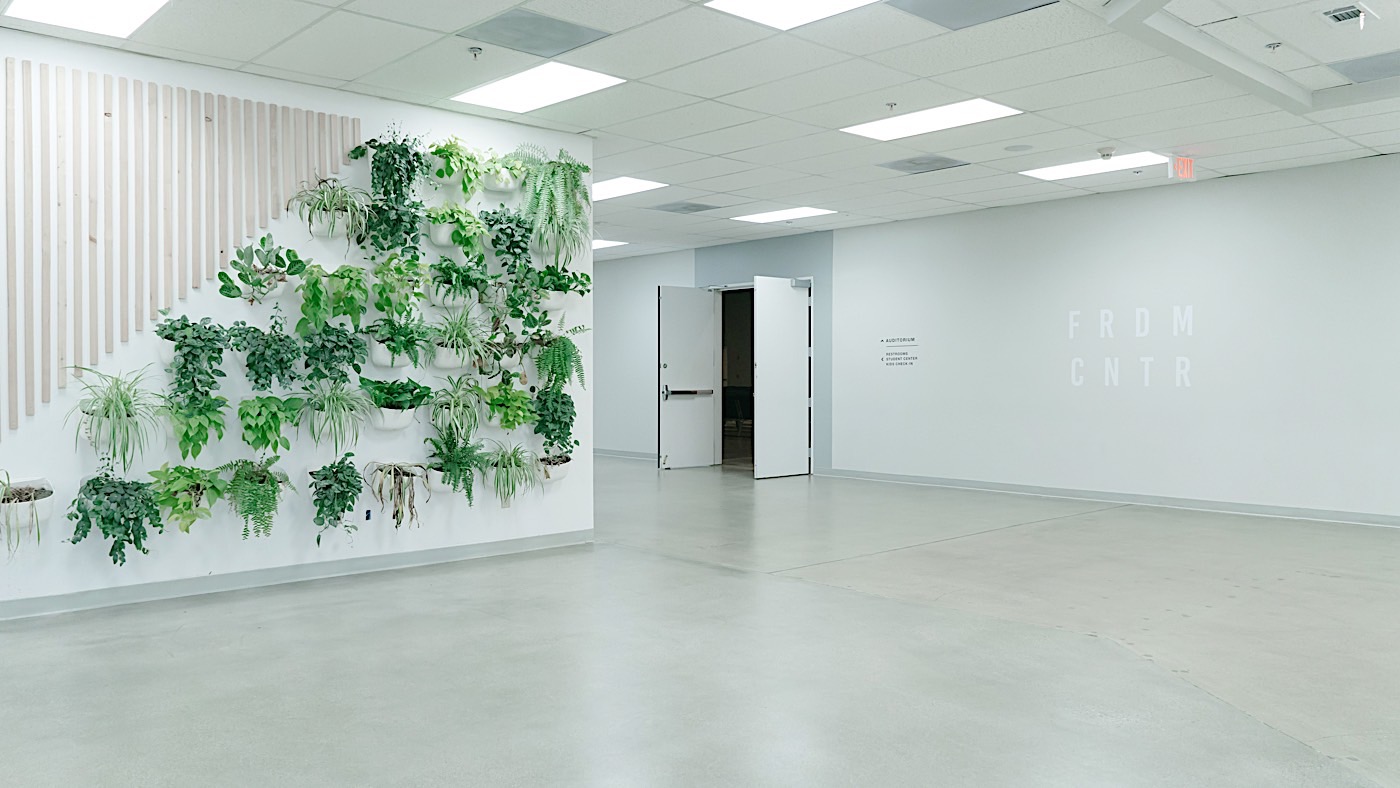 Welcome to the Freedom Center, one of the newest and finest equipped meeting facilities in the San Fernando Valley.  Located conveniently near the corner of Nordhoff and Topanga Canyon Blvd., in Chatsworth, CA, access is easy via the 118 or 101 Freeways.  With a flexible seating arrangement that can accommodate up to 600 people in theatre style to a more intimate training seminar in classroom arrangement for 150. We can do it all!  Ample adjacent and dedicated parking (including 12 handicapped spaces), and a state-of-the-art audio and video system makes this the perfect choice for your meeting, training event, wedding or reception.  And, if needed, additional breakout rooms in a variety of sizes are available for rental as well.
Please complete the online questionnaire.  We're here to serve your meeting needs with excellent, diligence and care. Let us help you have your best meeting or event ever!